B4Real Credits (B4RC) to list on Gravity Finance!

Jarrad Parke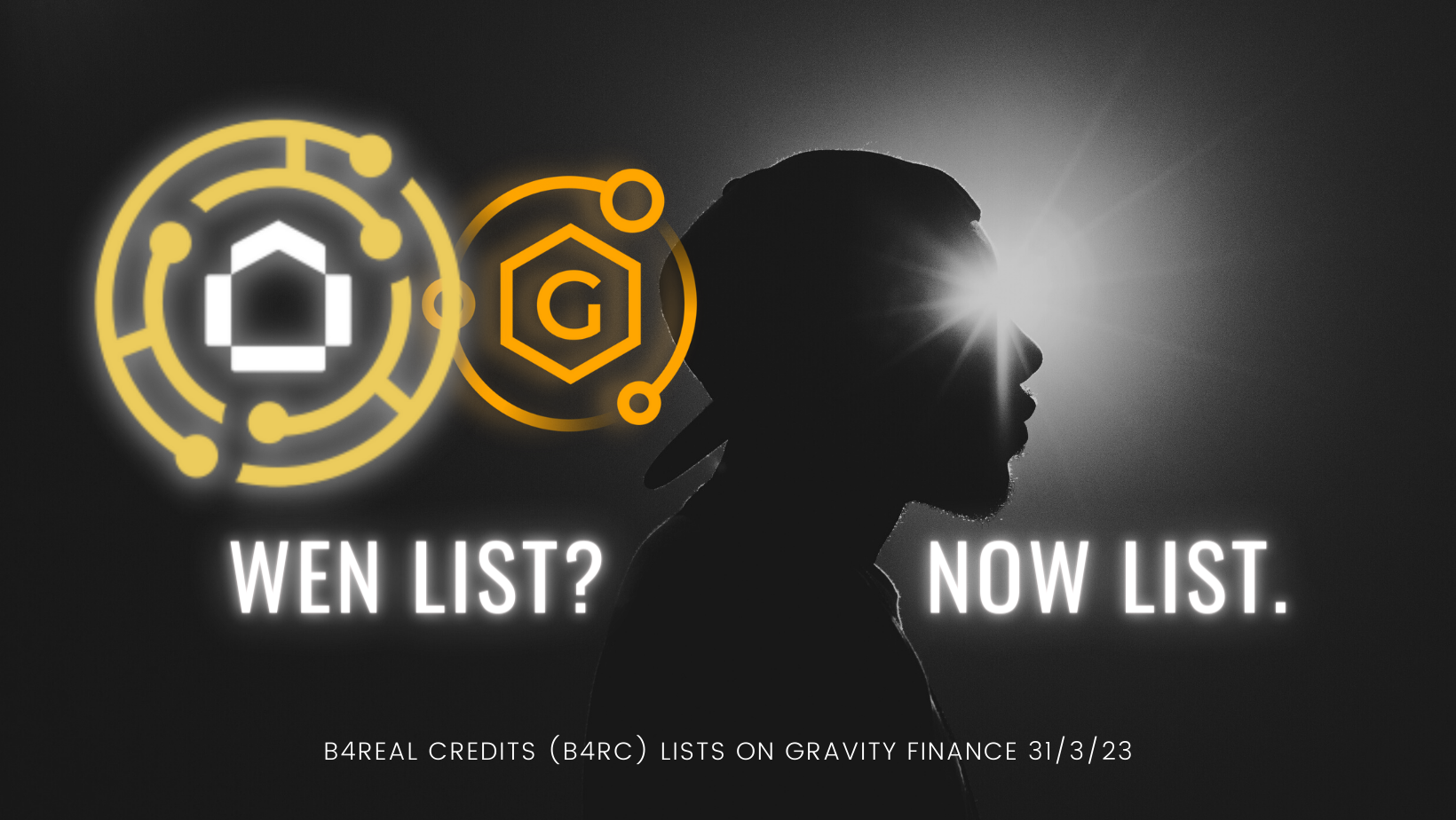 Yes, dear Black Tie community, the time has come at last. B4Real Credits (B4RC) will be listed on Gravity Finance (gravityfinance.io) at 11:59 pm AEDT on March 31st, 2023.
This has been a long time coming, and we thank everyone for their patience and support while we've navigated the chaos of the last few years of global crypto calamities. But we're in no way done – there's still plenty more to come while we work towards a CEX listing for both tokens over the next few months.
B4RC is a transactional token, always worth $1 AUD when used as part of a purchase of real-world property through the B4Real platform. We anticipate a strong appetite for B4RC tokens among potential real estate purchasers, especially in the current context of the highly opportune but tumultuous Australian real estate market.
The B4RC listing on Gravity Finance will serve as a test of market response and allow us to ensure that those with an immediate demand for B4RC tokens can easily match with those who currently have an oversupply. Black Tie Digital will vest the LP tokens it receives for 12 months in a publicly viewable smart contract to ensure ongoing liquidity, providing our users with confidence and transparency.
After introducing B4Real Credits to traditional real estate markets and stabilizing transaction velocities, our intention is to list both B4RC and B4RE on a centralized exchange by mid-2023. This move should allow for an increased scope of achievements for marketing purposes.
Our goal at Black Tie Digital is to revolutionize the way people buy and sell real estate. By combining blockchain technology with real-world assets, we aim to provide a more secure, transparent, and efficient way of conducting real estate transactions. The B4RC token listing is just one of many steps we are taking towards achieving this goal.
Through the Gravity Finance LP, holders with an excess of B4RC will be able to more efficiently dispose of their tokens in order to repurpose their capital as needed. Conversely, having B4RC listed on a public exchange means that property buyers who cannot feasibly stake B4RE and earn enough B4RC in time for their planned purchases can still access some of the advantages of using B4RC transactionally.
It's also worth remembering that B4RC will be able to be used towards a portion of the Tokenised Investment Offerings (fractional real estate) which Black Tie Digital will be bringing forward very soon. More detail on our first fund will be released shortly, but for now make sure you're up to date with the latest version of the White Paper (available at this link).
We are excited about the potential of the B4RC token and the opportunities it presents for the real estate industry. By using blockchain technology, we hope to create a more accessible and efficient market for real estate transactions, bringing the industry into the 21st century. Our mission is to make entering the real estate market easier, more secure, and more efficient for everyone involved, and a public exchange listing for B4Real Credits is a significant step towards achieving this goal.
We would like to invite anyone interested in the B4RC token or the real estate industry to join us in this exciting new venture. We believe that blockchain technology will revolutionize the way people buy and sell real estate, and we are proud to be at the forefront of this exciting industry. With the listing of B4RC on Gravity Finance, we are one step closer to realizing our vision of a more transparent, secure, and efficient real estate market.
With thanks,
The team at Black Tie Digital